Blog, youtube
How to Get Started on YouTube: A Step-by-Step Guide for Beginners
Whether you are a small business or brand, or simply a creative individual looking to forge a new career in video content, building a library of video content on YouTube can feel like a daunting task. But don't let the magnitude or the workload of getting started deter you from beginning your journey into content creation. The best way of getting started on YouTube is just that. Getting started.
Video content can help your branding efforts and provide a platform to display your talents, interests, insights and business expertise, etc. It's also a great way to entertain, educate, and connect with people all around the world. If you yourself, or your brand, are looking to explore the amazing opportunities YouTube can offer, here is a step by step guide to get started, even for the most novice user.
Step 1. Decide what you want to achieve with your content
This may seem obvious to some. But it's a critical phase of the creation process if you hope to maximize your efforts and their effectiveness. Both in the short term and the long term.  Before you do anything, you need to decide what it is you're hoping to get out of building a presence on YouTube. This seemingly simple process isn't necessarily black and white, but the answer will help you decide what type of videos you want to create and start the process of defining the right audience for your content.
Establishing a specific goal from the start positions you to create content that your audience will want to subscribe to, bookmark, and share with their friends and extended networks. Those actions are crucial in developing visibility for your channel and growing your audience. Especially when you are starting from scratch. Focusing on content that is both useful and/or entertaining to your audience will position you to become a trusted resource of information or entertainment.
Step 2. Create your channel
Most everyone these days seems to have a Google account. But for the select few don't keep in mind you will need a Google account to start your YouTube channel. Once you have created your account (or signed in, for those who already are active members), navigate to YouTube, where you will be asked to name your channel. Using the name of your business is probably the best option if your channel is focused on your company or brand. Likewise, if you are setting up your channel for your personal brand, your stage name, gaming handle, channel concept, etc., may provide the best options for effectively labeling your channel name. The reasoning behind this step is simple. You want to make it easy for your audience to find you!
Once you answer a couple of simple questions and agree to the terms of service, you will be transported to your newly created channel! But not so fast. Ideally, it's best practice to do a little housekeeping before you start creating videos and promoting your new page. You want to make a good first impression on your visitors! So here are a few simple tasks to focus on upon inception.
Channel Icon
Although the idea of emphasizing this task may seem almost juvenile, selecting a channel icon is the simplest task you can perform to begin legitimizing your channel to the general public. Focusing on the details of populating your profile content as a whole substantially improves your perceived professionalism from potential new viewers. And as we discussed earlier, you want to make a good first impression on your visitors. It starts with the first image they see of your channel.
Upload your company logo or desired image to the channel icon box at the top left of your channel page. Use a high-quality image that represents your business or brand in a clear manner. Also, optimize the dimensions of your image so they properly display and look professional.
About Section 
The about section is an opportunity for you to let your visitors know who you are, what you do, where to find you, and how to get in contact. With that intention in mind, be sure to link all your other social networks to your channel, so that people can follow you on multiple platforms. You should also link to your company website here. Utilizing YouTube to help create traffic to your other platforms only works to enhance your social visibility and reach, while simultaneously bringing attention to your other branding and social efforts.
Channel Art
One of the best ways to help your channel stand out from the crowd is by customizing your channel art. YouTube itself provides a great walkthrough of this process, complete with guides for image dimensions and information on how your artwork will be displayed across a variety of devices including mobile devices and televisions.
However, be careful and extremely selective when choosing your channel art. Using a simple design or pattern that is consistent with your company's branding can help to convey a consistent image for your brand. We say 'be careful' because you want to make sure you have the rights to use an image you choose. If you don't own the rights to an image (or have formal permission to use it), you run the risk having the image (and your channel) flagged. Lastly, preview what these images look like on other devices to make sure everything looks good. Phones, televisions, tablets, and desktops all show the channel art at different dimensions. Optimize your image to be as universal as possible across all mediums.
Step 3. Plan Your Content
Ok, so you've completed the steps above. You've set up your channel and decided on the kind of video content that you want to create. The best way to gain followers and generate views for your YouTube videos is to keep your content interesting and engaging. The more people can relate to your content, the more likely it is that they'll want to click on it and watch until the end. And the duration of your views directly effects both the YouTube algorithm for visibility on the platform, and any possible monetization your channel can generate once you have established an audience.
Another best practice is to stick to your theme or niche if you have one. It should be noted that having a niche is a strong element in helping your channel stand out in today's saturated content pool. A majority of the most successful YouTubers have dedicated channels for travel, tutorials, or simply documenting their daily lives. The landscape today tells us that viewers like living vicariously through the people they watch online. So let them know what they can expect (while still keeping it fresh), and deliver interesting material that they can enjoy, and will want to enjoy moving forward.
Step 4. Create Your Content!
Finally, the fun part! Well, yes, it's fun. But don't overlook the fact that while it is the fun and creative element of the process, it is still very much 'work' if you hope to generate mass viewership and grow your audience over time. With that said, gather up all your equipment and resources, and go shoot some video! There are a number of great resources online for finding the ideal and necessary gear for your niche, and many options for all budgets. Depending on your direction and short term goals, you may not even need a large investment to get started on shooting and editing quality content catered to your desired audience. Even if you're only shooting your smartphone, it's still possible to make really great video content, as long as it's useful and/or entertaining. Your brand's specific goals and intentions will dictate the level of short and long term investment needed in terms of equipment.
Most all the top YouTubers have a common trait and reoccurring theme; they are all confident and have fun while making their videos. Great videos always have good energy. If you are not having fun making the video, it's difficult to expect your audience to do so. This in itself is a crucial component in developing the engagement you need from an audience to grow your channel effectively.
Step 5. Make Every Second Of Your Videos Count
With attention spans dwindling almost seemingly by the day, it's important that you produce quality content and edit your videos accordingly. Delete anything that you think may not contribute to making your videos better or more watchable. Be selective with the clips you include in your final cut. A well-edited video will keep your viewers both interested and engaged in your content.
Success creates freedom to some degree. Once you've amassed a larger following, you may have a little more creative control per se, and maybe include a few of those artsy or b-roll shots. But keep in mind, it is still always optimal to consistently cater your content to your audience. Remember to think as your viewer would think, and create what you would want to see if you were them.
Step 6. Fully Optimize Your Content
This is a major step. Another hack to give your videos more visibility is to optimize your content to help it rank on YouTube. Ranking on YouTube has a dramatic effect on whether or not a video generates organic views. And optimizing your videos provides a great start to enhance that organic reach and increased ranking. Once you upload your first video, give it a descriptive title that viewers are likely to type into the search bar, and make sure to include your main keyword or key phrase. An example would be using the title "Top Tech Products of 2018" rather than "Our Thoughts On This Years Tech Products", or something of that nature.
Additionally, make sure you are using relevant tags that will help put your video under as many related categories as possible. A good starting point to find out which tags are most applicable to your audience is simple. Check out the competition and see what tags other similar videos are using.
Complete the process by writing a good description with at least 200 words, and ensure you have included your target keywords, synonyms, and additional variations. This not only helps viewers figure out exactly what your video is about, but it also helps your video rank in search engine results pages. And the higher the rank, the more views you will likely accumulate.
Step 7. Create playlists with your videos
Ok, so you're off and running. You've created a few videos, and you are in the beginning stages of generating a library of content. A great way to continue the momentum is to group them together into playlists on your channel. It doesn't matter if you only have a few videos, it's still a best practice to put them together on a playlist. This benefits you because the title you choose for your playlist can help you increase your rank in Google search results.
Playlists also encourage people to watch more of your videos by design. Viewers will see a list of the rest of your videos in the series, which also makes your content more episodic. The cherry on top is that the auto-play function of YouTube does a good job of engaging viewers to watch multiple videos, with little to no effort on the part of the viewer. This is an opportunity to have a potential viewer consume an even larger portion of your content, and possibly generate a subscription from that viewer if they find your content valuable and entertaining.
Channel owners are given the option of having your playlists featured on your YouTube channel page. Not only can you use this as a function to organize and categorize your content, but you can also highlight the videos you want to draw the most attention to and creatively dictate the presentation.
Step 8. Share your content
This is almost a continuance of the step above. While your videos may get some traffic through search alone, promoting your videos through your other online channels is another crucial element in generating views. The people who have already connected with you on Facebook, Instagram, Twitter, LinkedIn, and Pinterest, are the most likely viewers to appreciate your new videos. This makes them also the most likely to share the content and potentially increase its reach through their personal networks.
Step 9. Establish a Content Cadence
As social media advances, another important tip is to be consistent with your uploads. This can not be emphasized enough in today's ultra-competitive marketplace. Regardless of how flawed or imperfect you believe your content is, it's imperative that you keep getting your videos out there. A consistent cadence of video content is critical to building an online audience.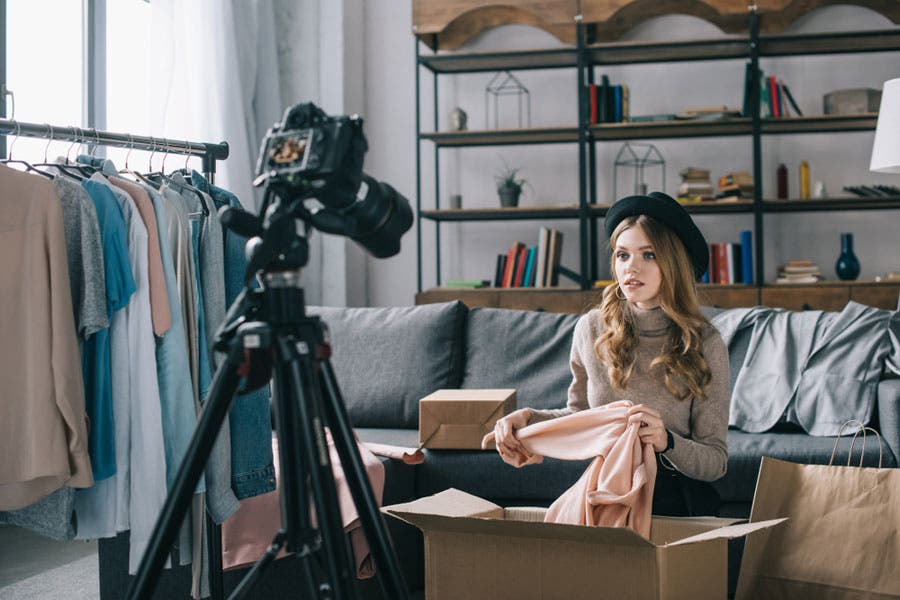 You're particular niche or vertical should contribute to the decision making behind what the proper cadence is for your intended goal. Some YouTube channel owners publish videos once or twice a week, and openly let their viewers know about this schedule on the end card (the end of each video) so viewers know when to expect a new release. This makes it more likely you'll get a consistent flow of views, particularly once it gains a number of active subscribers. Once you established a convenient and effective schedule that works for you, stick to it. Be consistent.
Following these steps are sure to give you a solid foundation of principles to focus on when starting your YouTube channel. So get out there and start creating!
As a reminder, Influencer marketing doesn't have to be fluff but can be a sales channel and an imperative part of every marketing strategy. Our influencer marketing agency caters to all of our clients' needs, we aren't simply an influencer marketing company.
Grow and Measure your Brand's Social Engagement with the Influencer Marketing Agency of the Year
Want to join the #1 Global Influencer Talent Team?
Other posts you might like