Blog
15 Influencer Marketing Statistics That Will Wow You!
**Originally Published December 27th, 2018, Updated October 11th, 2019**
Before the explosion of influencer marketing, a majority of advertising campaigns consisted of a single celebrity spokesperson. Fast forward to 2016, where brands began leveraging a group of social media gurus and macro-influencers to promote their products. Then came 2017, where we saw the number of micro-influencers used in marketing campaigns explode into the thousands and prove the effectiveness of this growing industry. So here we are, at the end of 2018, and we would venture to guess that very few people could have predicted the exponential spike we have seen with influencer marketing.
Looking back at the development of the industry, the results it has created are groundbreaking. So it's safe to say that 2019 is likely going to be influencer marketing's most exciting year to date. But don't just take our word for it. The numbers around this vertical illustrate both its growth and effectiveness. Here are 15 influencer marketing statistics that are certain to wow you, and possibly inspire you and your organization to activate an influencer marketing campaign of your own.
1. More Brands Are Putting Their Money On Influencer Marketing
The number of brands investing in influencer marketing is growing by the day. In 2017, eMarketer reported that marketers spent $570 million on influencer marketing globally. In 2018, $1.6 billion was invested in sponsored posts on Instagram alone. If that doesn't symbolize exponential growth, we don't know what does! So, how many brands are putting their chips in the pot for influencer marketing in the near future?
According to a study conducted by Linqia, 39% of brands plan to increase their influencer marketing budget next year. As a matter of fact, 93% of marketers in the study said that they will be spending more than $10,000 on their campaigns. Additionally, the study found that the majority of brands spent between $25,000 and $100,000 on influencer marketing in 2017 – a number that will have significantly increased over the last year and is sure to continue growing in 2019.
Brands are increasing their budgets across the board, yet influencer content is still very affordable – in fact, 84% of micro-influencers charge $250 or less for sponsored Instagram posts, and 97% charge $500 or less. 
Brands can access and activate a large volume and variety of content for a fraction of the cost of traditional marketing, allowing them to maximize the effectiveness of their marketing budgets like never before.
2. Content Is More Creative And High-Quality Than Ever
The quality of tech, image editing apps, and smartphone cameras are continually improving, almost seemingly by the day. With the release of new models such as the Google Pixel 3, Samsung Note 9, and the iPhone XS over the last year, most everyone now has the tools to become a micro-influencer right at their fingertips.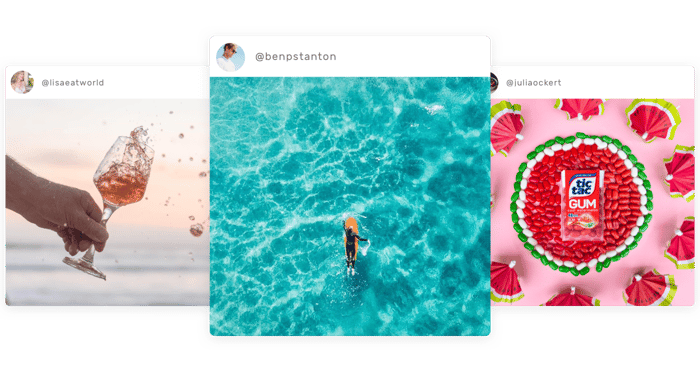 In turn, influencers are raising the bar on quality content, and influencer content is evolving to be more creative and high-quality than ever before.
The past year has seen the rise of not only video but other, more creative forms of motion content. Cinemagraphs, boomerangs, stop motion, Stories, GIFs and AR filters all have grown their prevalence within the fabric of social media content over the past year. So today, as we are on the brink of entering the new year, brands are not only requesting these creative formats but expecting them. So influencers who are leveraging these formats in their current content cadence will likely have a leg up on their competitors, and likely attract more opportunities for brand deals in 2019.
3. ROI Is Becoming More Measurable
Flashback to the end of 2017. A study conducted by Linqia determined that 76% of marketers said that the biggest influencer marketing challenge for 2018 would be determining their campaign ROI. Actually, over 90% of marketers in the study said that they only used engagement rates to measure the success of their influencer marketing campaigns. With that in mind, social media platforms emphasized developing deeper reporting and analytics tools for social accounts in 2018. This year saw the development of new and exciting ROI lenses through which brands could view and measure their campaigns.
ROI metrics such as word of mouth, brand sentiment, operational ROI and affiliate link tracking have changed the way marketers are now able to assess, track and analyze the success of their campaigns. Moving forward into 2019, these metrics will not only give brands more insight into what works for their target demographic but also enable them to optimize future influencer marketing campaigns to ensure peak performance and optimal results.
4. Instagram is the official Influencer Marketing platform
There is a front-runner when it comes to which platform is dominating influencer marketing. 93% of influencer marketing campaigns now use Instagram. That is a huge number. In fact, the use of Instagram Stories in influencer marketing campaigns grew 60% in the last quarter alone. On the flip side, the use of Facebook and Twitter for influencer marketing campaigns declined by 20% and 10%, respectively.
If influencer marketing is the yin, Instagram has cemented itself as the yang. The two are so synonymous with one another that Instagram is currently testing out creator accounts, which will be similar to business profiles but with features designed specifically for influencers. You read that correctly. Instagram is literally in the process of testing and designing a custom version of its incredibly popular app specifically for influencers.
Over 80 million photos are now being uploaded to Instagram daily, and with the addition of swipe up and affiliate link features on Stories over the past few months, the image-sharing platform has quickly become an influencer marketing goldmine. And not just for the brands. We mentioned 92% of marketers chose Instagram as the most important social platform for influencer marketing, as mentioned in the previously cited Linqia study. But additionally, 60% of influencers also chose Instagram as the most effective platform for engaging their target audience, and 50% chose it as the best platform for posting branded content.
As we approach the end of 2018, Instagram now boasts over 1 billion active monthly users – up from the 800 million DAU in September 2017. Heading into 2019, it's a safe bet that these numbers will continue to rise.
5. Marketers received $7.65 in earned media value for every $1 spent on influencer marketing just last year
Influencer marketing is yielding astronomical returns for early adopters. We are no longer in the absolute infancy of this industry, so we are gaining more and more knowledge on exactly how effective influencer marketing is. In 2017, it was determined that marketers received $7.65 in earned media value for every $1 spent on influencer marketing just last year. Two years prior, that number was $6.50 for every $1 spent. As we close out 2018, that number is expected to have grown once detailed studies emerge from this year's findings.
Last year, Influencer Marketing Hub conducted a survey to understand how companies see the state of influencer marketing. When asked to rank their fastest-growing online customer-acquisition methods, 28% named influencer marketing as number one. This is almost double that of those who focused solely on organic search, and nearly 10 times more important than those who concentrate on affiliate marketing.
6. TV viewing among 18-24-year-old's is declining by 9.5% every year
Nielsen, the global information, data, and measurement company that collects information on TV viewing statistics, noted that TV viewing amongst millennials is down, and dropping more and more with every passing year. The sharpest decrease in viewing comes from the teen demographic (ages 12-17) which has totaled 14.5% decrease year-over-year. Older Millennials (25-34) and GenX (35-49) saw a 6.7% and 3% decrease respectively.
What does this mean? It means that these core demographics are consuming less and less traditional media (like television), and devoting their attention to more modern forms of media content. And social media content is near the top of that list. So it goes without saying there is massive opportunity to attain viewership through these new age mediums

7. Consumer-to-consumer word of mouth marketing generates more than twice the sales of paid advertising
Fact is, word of mouth is the primary factor behind 20 to 50 percent of all purchasing decisions made by consumers, according to McKinsey & Company, an American worldwide management consulting firm. As online communities have grown in size over the past few years, marketers have come to recognize the growing importance of word of mouth marketing. As the adage goes, a person talking about their experience with your brand is 10 times more valuable than talking about your brand.
8. 92% of consumers trust online word-of-mouth recommendations, while only 33% of them trust online banner ads
Let's be honest. Consumers are sick and tired of getting sold to and relentlessly sold to at that. Instead of viewing ads, consumers prefer listening to what the people they care about have to say. It can be mind-boggling to think of how overlooked this element of marketing often is. While a majority of advertising dollars are still being spent on traditional or paid media, such as television, the growing relevancy of influencer marketing is beginning to shift those budgets.
Another survey conducted by Nielsen in 2012, consisted of 28,000 Internet respondents in 56 countries. The survey showed that only one-third of global respondents trusted video or banner display ads on mobile devices such as tablets or smartphones. Fast forward to this year and data shows that banner ad click-through rates have fallen to less than 0.1%. This means that consumers are have grown increasingly exhausted by the never-ending stream of advertising content that is being dumped on them. This only emphasizes the importance and effectiveness of word of mouth marketing for your brand. And considering that influencer marketing leverages an influencer's, well, influence, over their audience, it presents an ideal opportunity to create branding and marketing efforts around their unique abilities to attract viewership.
9. Customers acquired via word-of-mouth have a higher retention rate than those acquired in other fashions
McKinsey has said that "The right messages resonate and expand within interested networks, affecting brand perceptions, purchase rates, and market share." We couldn't agree more. And the data seems to support and echo that sentiment.
According to another McKinsey study that was quoted in Forbes, marketing that originates through word-of-mouth generates an average of twice the number of sales than paid advertising and customers generally have a 37 percent higher retention rate than those of other more traditional methods. Like many of the data points on this list, that number is expected to continue to trend upward as word of mouth advertising (*cough* like influencer marketing *cough*) continues to grow, both in volume and ineffectiveness.
10. The number of online searches for "influencer marketing" is growing by 5000% a month
The marketing world has done more than just awakened to the potential of influencer marketing. It has embraced it with open arms and shows no signs of slowing down whatsoever. In fact, as Google Trends shows, the interest in the channel has grown exponentially since early 2015, when influencer marketing started to build momentum. Before 2015, influencer marketing was merely a small blip on the Google search radar.
11. TikTok Was The Most Downloaded app in Apple App Store Q1 2018
TikTok was the most downloaded non-game app in the Apple app store globally in the first quarter of 2018, reaching a total of 45.8 million downloads. This is particularly interesting because TikTok is a growing platform with massive potential as it pertains to influencer marketing.
The platform has been growing exponentially over the past year or two, and as it's user base grows, so does it's accessibility (and potential) for advertising. While many adults have yet to be fully introduced to this popular platform, the millennial market that has been fans since their teens will probably remain on the platform, while another generation of tweens lines up to come in at the bottom.
Viral Nation has actually had the opportunity to activate influencer campaigns for TikTok. Tasked to reach 20 million views within a week, our team utilized a variety of theme pages within different verticals and optimized videos provided by TikTok to provide the best reach possible. By devising a strategy that utilized Instagram Stories, Instagram Video, and Facebook Video, Viral Nation was able to achieve 27 million views, 62,000 clicks, and a CPM of $3.71 while exceeding the initial campaign goal by 135%.
For brands promoting products geared towards the younger generation, there may be no better platform than TikTok. It's not a matter of if the older generation will catch up to this trend, but when. That day is steadily approaching as TikTok steamrolls into the forefront of social media. Brands investing in advertising on the platform now will have a leg up on other companies who have been slower to come around to the tactic.
12. Gaming Expected to be Worth More than $174 billion by 2021
Newzoo, the leading provider of market intelligence covering global games, released their gaming revenue predictions through to 2021 (which were revised in October 2018). These predictions stated that by 2021, the total gaming market will be worth approximately $174 billion.
As it pertains to mobile gaming specifically, they expect the sector to continue it's growth as well, reaching $91.2 billion in 2021. 
Mobile gaming is one of the most popular past times and is a burgeoning market that is heavily steeped in the roots of influencer marketing. As the mobile gaming sector grows in value, so does the need to advertise. And advertising mobile games is arguably best achieved through influencer marketing, where the influencers that promote these games and products are admired by millions of gamers around the globe who hang on an influencer's every word or suggestion.
13. Media Rights Revenue from Mobile Gaming is expected to reach $449 Million in revenue by 2022
According to data firm PwC, eSports revenues surpassed $805 million in 2018, with the biggest portion resulting from sponsorships ($277 million), followed second by media rights and streaming advertisements.
PwC also estimated that over the next three to five years, they expect to see an 11.5% increase in media rights revenue, with expected growth estimated to be roughly $449 million by 2022. This is more than double the rate of growth expected from sponsorship and advertising, which is expected to be a 5.5% increase.
14. Global Esports Viewers Will Total 453.8 Million This Year
Speaking of mobile games, it isn't just the mobile variety that is experiencing massive growth as of late. The eSports economy is booming, and the global audience is projected to grow to 453.8 million worldwide in 2019, a year-over-year growth of 15.0%. This audience is expected to consist of around 201.2 million Esports enthusiasts (a +16.3% year-on-year growth) and 252.6 million casual viewers (a +14.0% year-on-year growth). As the eSports market continues its maturation and we see a steady increase in the number of local events, leagues, and media rights deals, data indicates that the average revenue per fan is expected to grow to $6.02 by 2022.
15. Apps Account for 90% of the Time Spent on Smartphones
eMarketer's Mobile Spent 2018 report found that apps account for over 90% of internet time on smartphones and over 77% of internet time on tablets. However, the time spent on the apps is far from equal. Nearly half of app time occurs in an individual's most used app, and 90% in their top five. For many people, this includes games.
What does this mean for influencer marketing, you ask? With the increasing viewership of online content through mobile devices, influencer marketing is more potent than ever. People are constantly consuming content online, and primarily through their smartphones. If users spend 90% of their time on smartphones using an app, marketers should be thinking about how to get their message out to their target consumers on these apps. Influencer marketing is the ideal vessel for this messaging.
FINAL THOUGHTS
Influencer marketing has officially hit the mainstream. Yet only a select few are implementing a long-term influencer marketing strategy into their overall marketing ecosystem. Most marketers today are still only dipping their toes in influencer marketing, exhibiting the type of restraint usually reserved for ventures of higher risk.
As the internet marketplace and economy continues to mature over the next couple of years, the brands and agencies that invest in activating influencer marketing are going to reap the greatest rewards. There is an opportunity for marketers to make influencer marketing a priority and establish a well-oiled system before the market adjusts. But they better move fast, because as the data above outlines, the market is adjusting at light speed.
Are you interested in the benefits of an influencer marketing agency? Reach out to us today and receive your custom strategy!
Grow and Measure your Brand's Social Engagement with the Influencer Marketing Agency of the Year!
We only do marketing that works.
Other posts you might like