Blog
Highlights From Cyber Monday
With the holidays in full effect, Black Friday and Cyber Monday have officially come and gone. Companies and brands around the world activated a plethora of jaw-dropping deals and promotions to whet the shopping appetites of consumers. Companies like Amazon just announced that it saw it's single biggest shopping day–in terms of the total number of items sold–in the company's history, with millions of people perusing the site and purchasing discounted items for the holiday season.
Walmart will continue to offer free two-day shipping for items over $35 on Cyber Monday and throughout Cyber Week. And social media as a whole is abuzz with deals being promoted by some of your favorite influencers. Here are some of the highlights from the biggest online shopping day of the year.
Amazon's highest selling item was…
Across five days from Thanksgiving through Cyber Monday, Amazon said customers ordered a staggering 180 million items via its U.S. site alone. As mentioned above, Cyber Monday was Amazon's biggest shopping day of the year. So what was their highest selling item? In the U.S., the best-selling item at Amazon.com on Monday was the all-new Echo Dot smart speaker. Amazon has said they sold "millions", though the company declined to offer a specific figure beyond that statement. Other top sellers included Bose QC 25 noise-canceling headphones, Michelle Obama's autobiography Becoming, and everyone's favorite party game, Jenga.
"Black Friday and Cyber Monday continue to break records on Amazon year over year, which tells us that customers love shopping for deals to kick off the holiday shopping season," Amazon's Jeff Wilke said in a release.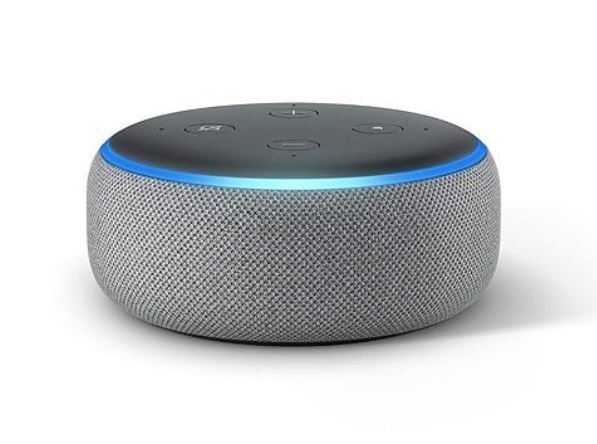 Influencers and YouTubers got in on the action
It's no secret that social media is a desirable forum for discovering great sales and promotions on your favorite products from top brands, especially if you follow them on their social accounts. If not, it's likely you have still been exposed to these promotions through targeted marketing on your social channels. But it's not just the traditional marketing channels that have been at the forefront of this season's holiday advertisements.
A number of high profile social media influencers pitching their own products to their audiences got in on the action, offering deep discounts on their brand merchandise. YouTube giants like Rhett and Link, for instance, had deals on their 'Mythical' brand products.
Celebrity make-up artist and influencer Jeffree Star also offered substantial price breaks on his Jeffree Star cosmetics line.
Even YouTuber Tana Mongeau joined the festivities with 30% price cuts on her merch.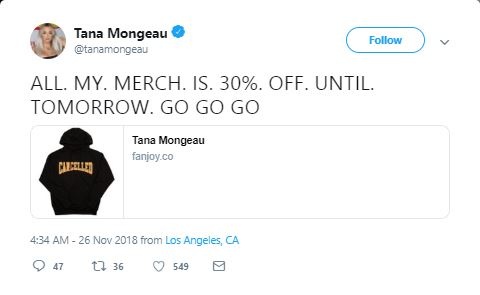 In 2018, as many as 75 million people were expected to shop online on Cyber Monday, according to the National Retail Federation, spending up to $8 billion. It only makes sense that your favorite social media personalities utilize their influence and capitalize on the deal-hunting sensibilities of their fans.
Big box stores banked on a big Cyber Monday, a revealing sign of the times
While Cyber Monday has been relevant for over a decade, it's still perceived to some degree or another as the stepbrother of sorts to its close relative, Black Friday. While brands offer substantial shopping deals across Friday and Monday–both in-store and digitally–big-box retailers are relying more heavily on their online sales revenues than ever before.
The Gap, which is struggling, offered 50% off every item, including an additional 10% for online specials as well as free shipping. Kohl's offered 20% off all items between Saturday, November 24 and Wednesday, November 28, in what was billed as Cyber Week. Shoppers were also offered $15 Kohl's cash for every $50 spent. The US economy is strong, with healthy consumer spending and low gas prices. Retailers all looked to capitalize on the increase of this disposable income and boost their own bottom lines in the process. Nearly every retailer who took part in Cyber Monday offered free shipping, a clear indication of the stakes these companies put on generating huge revenues this holiday season.
However, the deeper problem lies in these very promotions. Discounting is killing the bottom line at many stores. Retailers like Target's stock price plunged in recent weeks when it said that its costs were rising, in part from fulfilling online orders. Even powerhouses like Walmart are struggling with a similar problem. Online sales as a whole carry lower profit margins, largely due to fluctuating shipping costs that eat into profit margins. As revenue details of Black Friday and Cyber Monday emerge throughout the holiday season, the data will show whether or not the efforts of these brands can right the ship for some of the struggling retailers.
As a reminder, influencer marketing doesn't have to be fluff but can be a sales channel and an imperative part of every marketing strategy. Our influencer marketing agency caters to all of our clients' needs, we aren't simply an influencer marketing company.
Grow and Measure your Brand's Social Engagement with the Influencer Marketing Agency of the Year
We only do marketing that works.
Other posts you might like