Blog
Facebook Testing New Feature To Block Comments By Keywords
Friday November 11, 2018
Facebook has been emphasizing a certain degree of environmental oversight lately as it pertains to user behavior on the platform. Earlier this year, the company rolled out a feature that allowed users to snooze specific keywords, in order to clear the clutter of their content feeds. The feature was only made available to select users in the UK, the US, Canada, Australia, and New Zealand, but from this sample, Facebook was able to determine patterns of usage and rich insight on how people were using the feature. And now they are putting that data to work in the form of a new keyword editing feature of sorts.
The company is now testing a new 'Ban these Words' feature allowing users to block comments containing certain words. Jane Manchun Wong, a renowned feature-spotter on social apps, revealed that Facebook seems to be testing a new feature that allows users to control what content appears on their profiles, specifically with comments.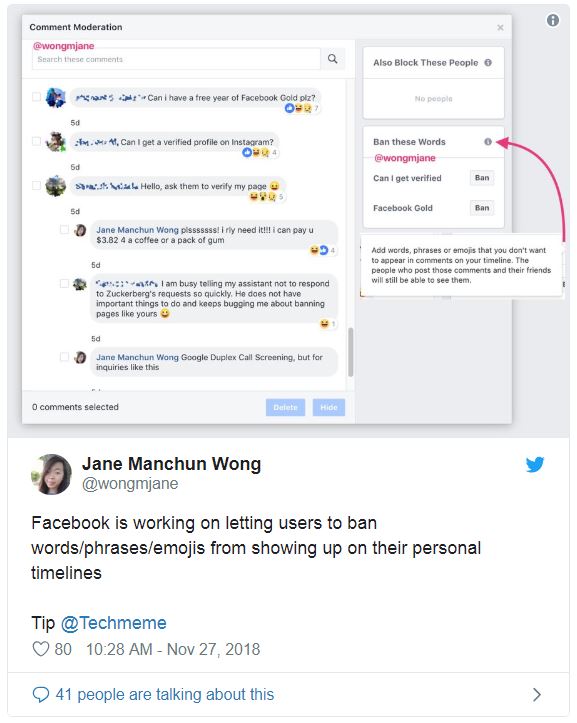 This new keyword blocking feature will effectively ban comments that contain specific "words, phrases, or emojis" that users don't want to appear in comments on their timeline. However, the comments would still be visible to the users who posted them and their friends. Essentially, Facebook is testing a way to hide unwanted comments automatically.
Certain communities are praising the idea of this feature. For users who face harassment, this new ability to control negative or spammy comments could be a godsend, especially for those who tend to be very public and post heavily on social media. Facebook Page admins already have the option to block certain keywords from showing up in comments, and users also can already mute keywords for a specific time period. But the new 'Ban these Words' feature takes these options a step forward, allowing users far better control over the content that populates their page.
Currently, there is no timetable on when the 'Ban these Words' function will be available to all users. Facebook has not publicly commented on the feature yet.
We only do marketing that works.
Other posts you might like